First a word on the Search Engines.
SEO (Search Engine Optimisation) is a game website designers play with the search engines. The aim of the game is to be number 1 on the first page in relevant searches that people do to find you, using their preferred search engine.
There have been many forms of trying to cheat your way to the top of the list, but search engines are not stupid and will drop your position or may even remove your website from their database if caught. Incorporating best practices will ensure the relevance and power of your marketing strategy for the long term.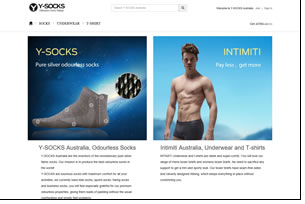 Odourless Socks from Y-SOCKS and INTIMITI Underwear and T-shirts Australia
Not our design, but thanks to our SEO they now rank very highly in their industry.
What we will do for your websites organic search engine position.
In-depth Site Analysis
The site analysis will cover visibility issues, page errors, page redirects, meta issues short, missing, duplicate titles & descriptions, content issues, low word count & duplicate content, link issues, broken links, missing anchor/ALT text in links, etc. Image issues, images missing title/ALT text and broken images, semantic issues detecting pages without headers, on every page of the website.
Keyword Research
The most important part of the SEO project. We would look at things such as search volume vs competition. Once we know what keywords we want, we will assign each keyword to a landing page on your site, and improve relevancy with the Internal Page Analysis.
Internal Page Analysis
These are internal landing pages in addition to the homepage which will be analysed and made as relevant as possible to the keywords they are assigned to. We will also look at other factors which may affect usability.
Competitors Research
We will look at your best ranking competitors, and analyse exactly why they have great rankings. What we will consider will be things like their link profile, their social presence, the content present on their site and how it's presented, the technical status of their whole website, how well it works. Everything positive and useful picked up from this research will be used on your website in some way.
Please contact us so we can quote you on search engine optimisation